6LoWPAN stands for IPv6 over Low-Power Wireless Personal Area Networks.
This is an IPv6-based low-power wireless network used for embedded systems and can connect to the cloud.
6LoWPAN uses a communication protocol that conforms to IEEE 802.15.4.
UC Technology has developed and marketed 6LoWPAN border routers to interconnect a LAN (IPv6) and WPAN (6LoWPAN). The inclusion of the router in IoT-Engine Development Kit can create effective Internet of Things (IoT) systems by providing hardware and software necessary for application development in one package.
Seven Features of 6LoWPAN
1. UCT products enable rapid 6LoWPAN application development.
We provide hardware and software necessary for IoT application development as an all-in-one integrated package.
All essential items are included for the immediate implementation of an application system.

<Package contents>

4 x wireless modules and 4 x development boards
UCT µT-Kernel 2.0
All required device drivers
1 x 6LoWPAN protocol stack
1 x sample program for device control
1 x project configuration file for integrated development environments (IDEs)
1 x 6LoWPAN border router
1 x 6LoWPAN packet sniffer

Figure: Packet sniffer screen

Other companys' products that have only the protocol stack need the development of a station equivalent to a 6LoWPAN border router for connecting nodes to the Internet.
6LoWPAN Development Kit, which provides an IPv6 border router from the beginning, does not need this extra development.
The product package includes packet sniffer firmware for powerful debugging.
2.Seamless Integration of the Internet (IPv6) and a WPAN
6LoWPAN border router
Realizes seamless connection between a LAN and WPAN
PC and smartphones can access wireless nodes in the same way as they access ordinary IPv6 nodes, without special device drivers, etc.
Routing optimization
Achieves good practical performance even when connecting to a LAN with heavy traffic, implementing neighbor discovery optimization based on RFC6775.
CoAP/HTTP conversion
A 6LoWPAN border router is equipped with a transparent conversion mechanism between Constrained Application Protocol (CoAP) and HTTP.
The cloud and wireless systems can be integrated and coordinated based on REST framework.
3. High performance and functionality based on UCT µT-Kernel 2.0
Low-cost configuration
Both wireless communication and complex device control are executed on a single MCU in the wireless module by adopting UCT µT-Kernel 2.0, a real-time OS for embedded systems, as a basic wireless node software.
Ease of Application Development
Multi-task (multi-thread) programming controlled by a real-time OS
You can develop IoT applications with ease, using user-friendly APIs.
Compactness
The whole software system, including a real-time OS, protocol stack, and application, runs within a single MCU inside a wireless module.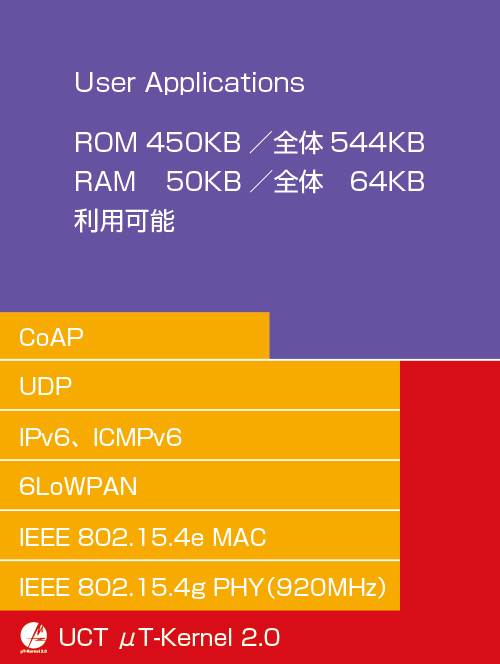 Figure: 6LoWPAN Protocol Stack
4. User-Friendly Interface
Configuration screen accessed by a web browser
A WPAN and routing settings can be configured easily using GUI on a web browser.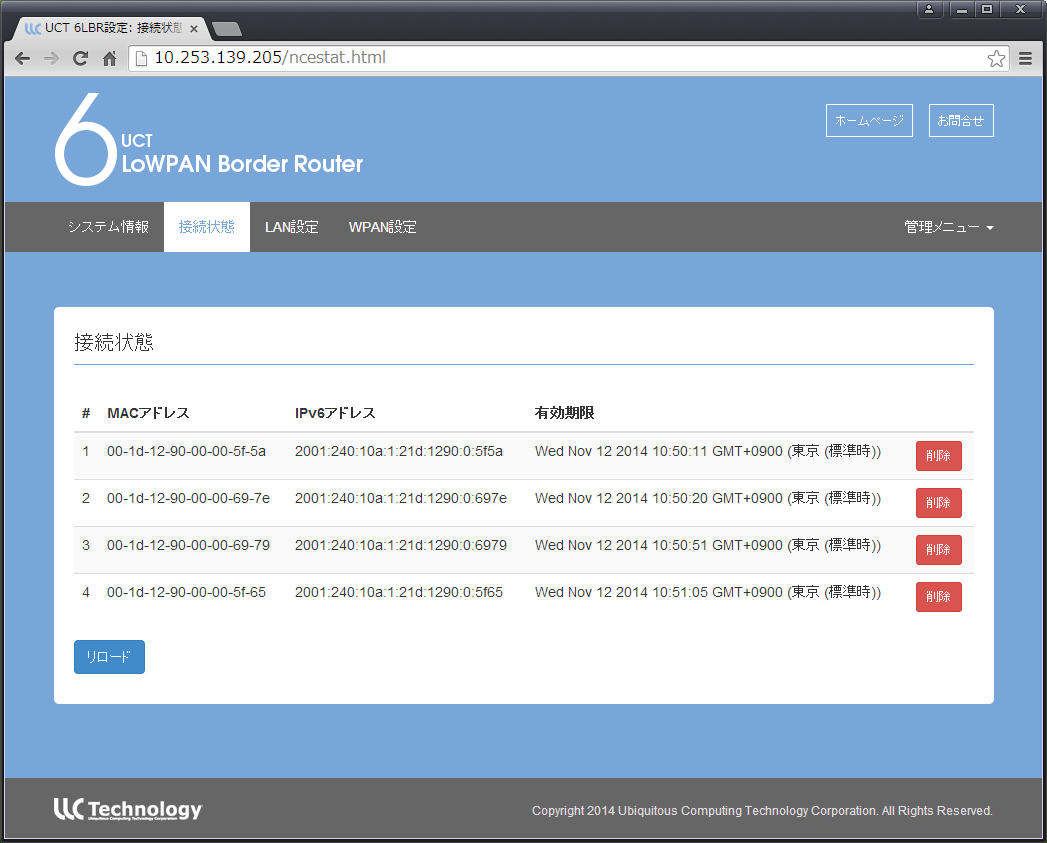 5. Support for 920 MHz band (IEEE 802.15.4g) 
920MHz communication is supported for its distance, diffraction characteristics, and low-power features.
6. Low-power application supported by deep standby mode
Supports communication operation with the deep standby mode of MCU and RF to build a system that operates on batteries for over one year.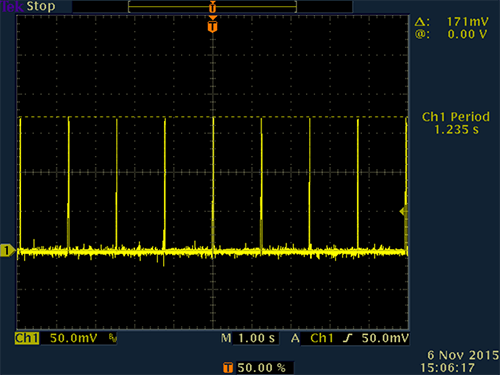 Figure: Power consumption during IEEE 802.15.4 beacon mode
7. The development board can connect sensors and other devices easily.
Preview in new tab(opens in a new tab)
Wireless module signals are available via through-holes on the development board, and it is easy to connect devices like sensors.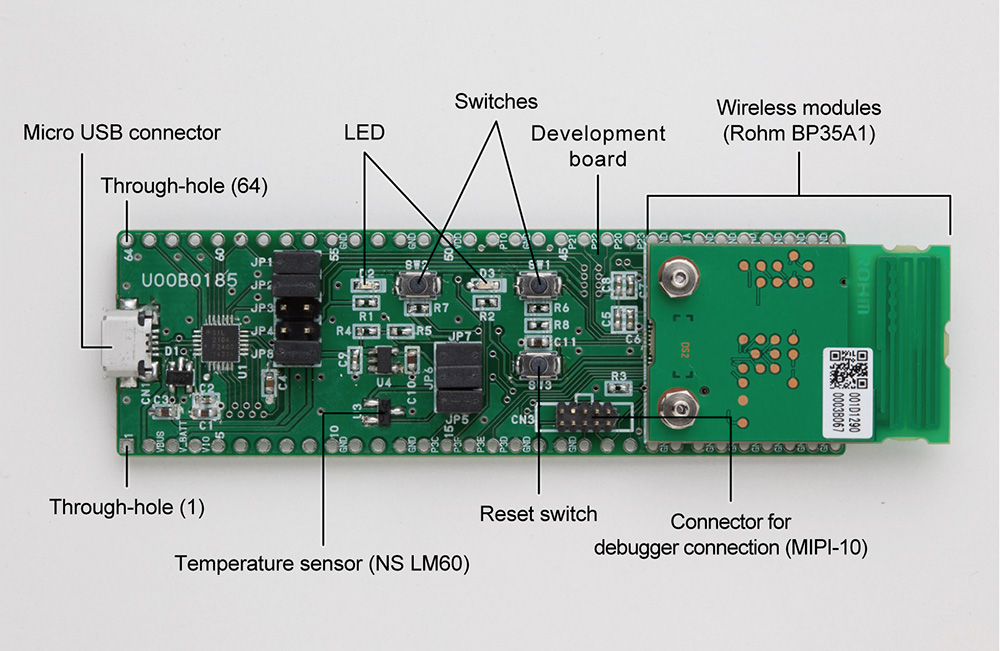 IoT Router (6LoWPAN Border Router)
Model number: U01C0192
Device for connecting a LAN and WPAN (single item)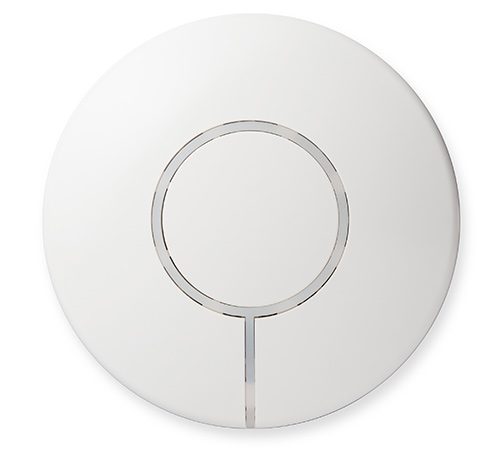 UCT 6LoWPAN Catalogue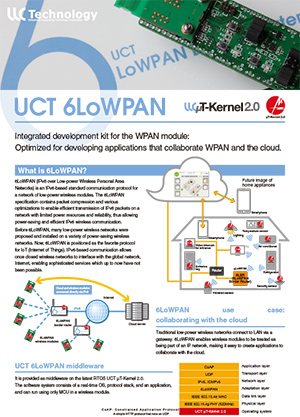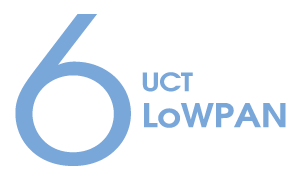 Please contact us for further information.